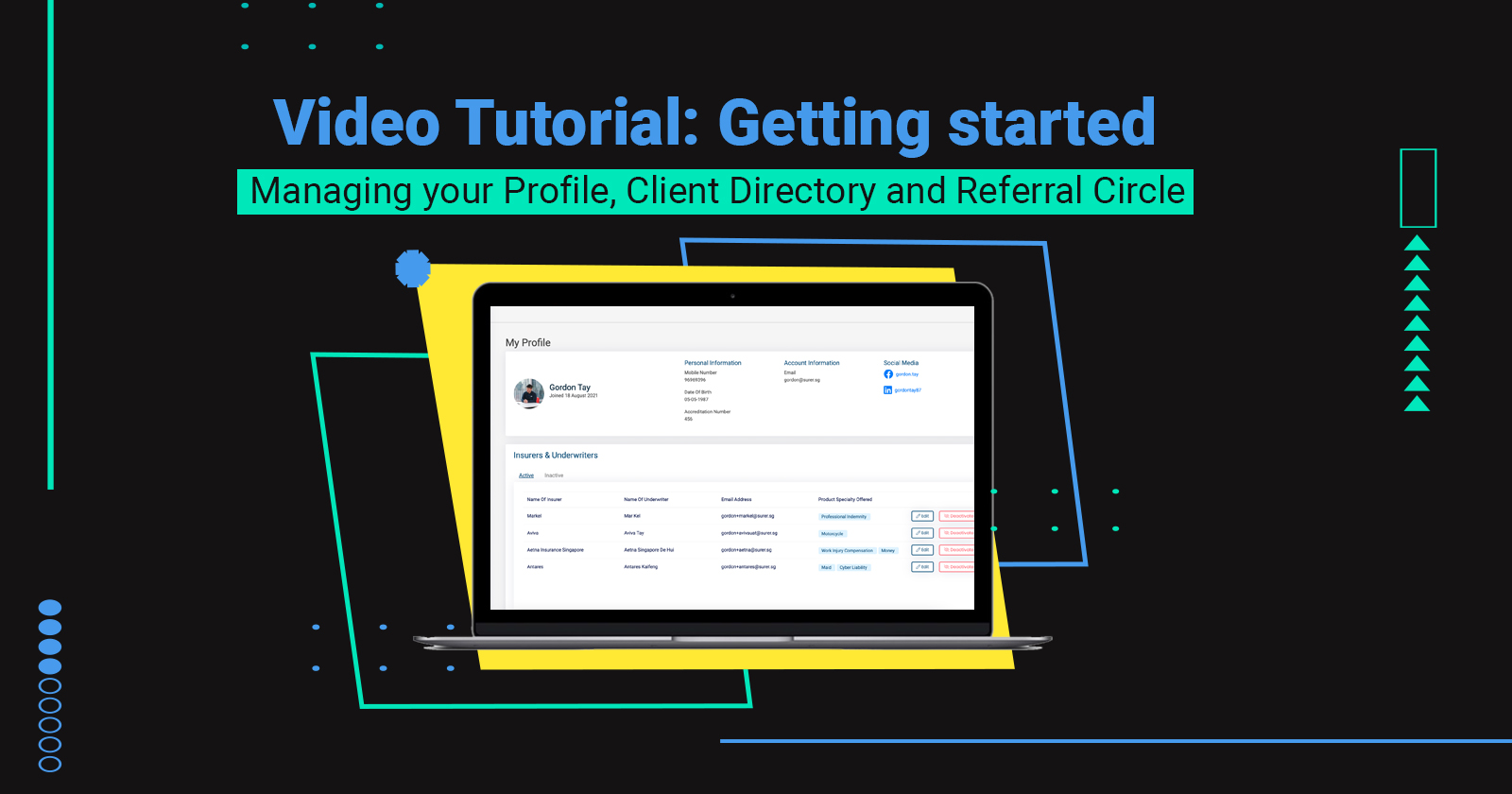 In this article, we would like to provide you with bite-sized video tutorials on key things you'd need to do to get yourself set up and get going on Surer!
Profile
Account information management
Your profile section is where you manage the following account information
Mobile Number
Accreditation Number
Email
Social Media account
Your account information is VERY important because
Email address

This is what will be used for logging into your Surer account
This is where all notifications will be sent to
This is where all automated emails to underwriters and clients will be sent from

Mobile number and Accreditation number

This will be shown in important automated communications between you and your underwriters, clients and agents you work with on a referral

Social Media account

This will provide other agents who are looking to add peers to their Referral Circle with further information about who you are
Here's a video tutorial on how to go about managing your account information:
Principals and Underwriters
Your profile section is also where you set up the list of insurers (and underwriters you work with) of which you represent.
This is a foundational step because:
This will determine if you can share an instant quote with your clients or not
This will allow other agents to search for you within Surer, to either add you to their Referral Circle and/or refer a proposal to you
Most importantly, this will allow you to select and send a completed proposal to the correct insurer(s) / underwriter(s)
The information you set up here will be used in all automated communications for e.g. addressing your Underwriter with the correct name in an email or sending the proposal to the correct email address for your underwriter to get back to you with a quote!
Here's a video tutorial on how to go about doing so:
Client Directory
The first step to creating a proposal is to select a client.
You will only have a client to select after creating them in your client directory!
In doing so, many of your proposal forms will be pre-populated with relevant information. This also means you just need to do this once and all future proposal creation will be a breeze for this particular client!
Adding a new client
This video tutorial will show you how to add a new client to your Client Directory
Get your clients to 'create themselves' in your Client Directory
We understand it may be tedious for you to ask your clients for information and then keying them in on your own.
Use this feature to blast a client creation form to your base of clients!
With this, you can ensure accuracy of information and be able to quickly populate your client directory!
Managing your Client Directory
As you would have seen in the two video tutorials above on creating a client, there are various types of Client groups you can create.
What is a client group you may ask.
We understand how you may have multiple clients who fall within the same family or company. 
What we have done is to allow you to group all clients you have created in your database on Surer in various groups so you never have to worry about missing out on the different relationships each of your clients have with each other – be it within the same family or company.
The following video tutorial will show you how you can manage such groups and also editing or deleting clients from your client director.
Other related Video Tutorial Guides:
—
And there you have it – once you have done the above, you are all set to experience the wonders of a supercharged business with Surer's technology!
Still unsure about how to go about using Surer? Fret not!
Request for a 1-1 training session here and one of our teammates will get in touch with you to schedule for such!
Are you an Insurance intermediary? Sign up for free now!
It is fuss-free. No credit card or payment required.
SIGN UP NOW
Subscribe to our Telegram channel to get the most insightful articles delivered to you automatically!
Join Telegram