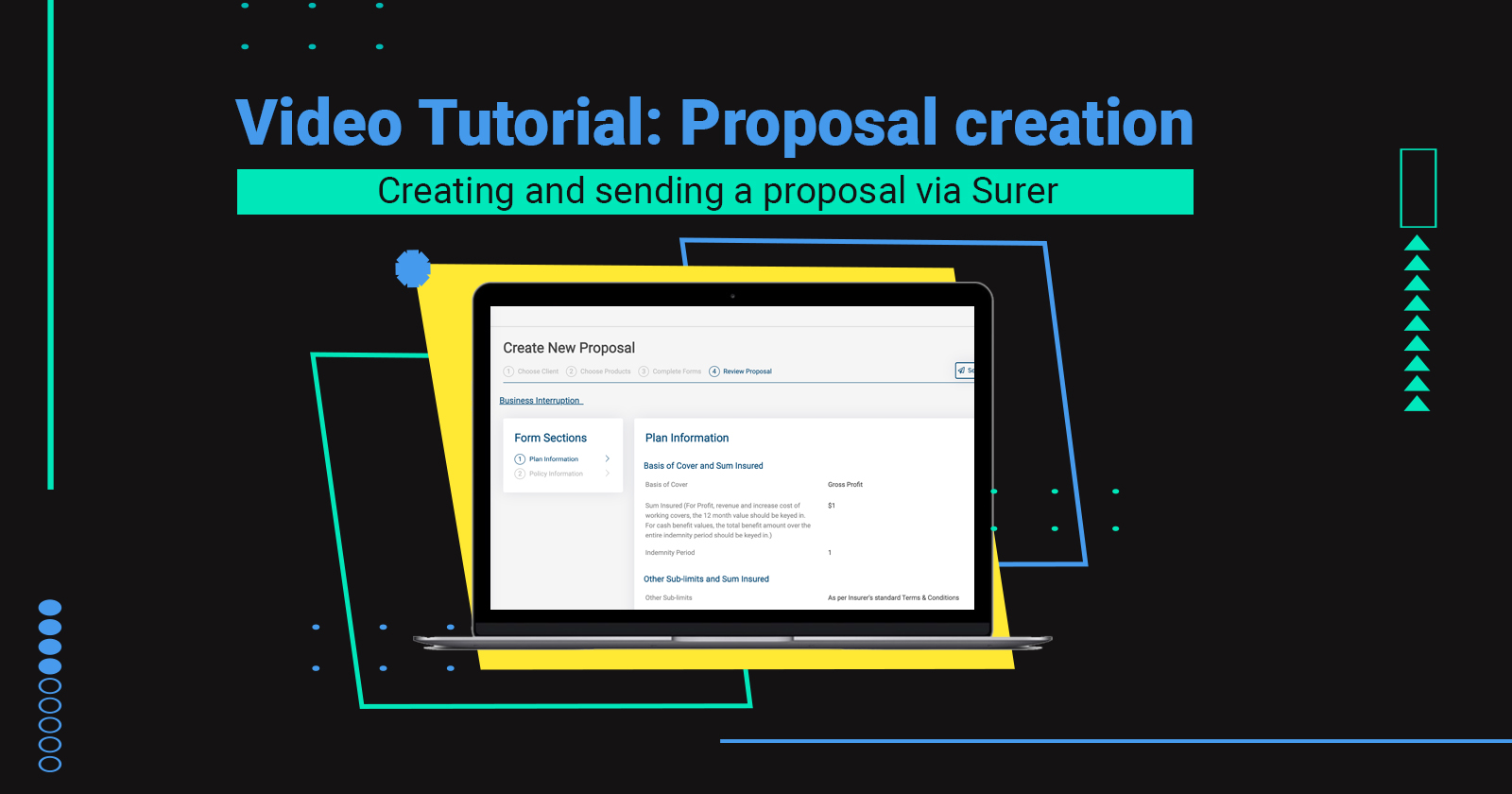 This article will give you a step-by-step overview and video tutorial guide on how to create and send a proposal via Surer!
Setting up your proposal form
Start off by selecting the client you'd like to create this proposal for. The clients that show up here will be from your Client Directory (check out this video guide to understand how you can set up your Client Director).
Next you will have to decide on the type of proposal you would like to create. You have two options here – Instant Quote or Custom. 
Instant Quotes means going into our instant quote marketplace to see if there are any suitable products in relation to this client.
Custom means to create a customised proposal from a list of over 50 product forms!
Finally, search or filter for the products you'd like to create a proposal with and off you go to the next step!
Filling out and sending the proposal
You will see the forms of your selected products to be filled out.
A couple of pro tips:
You can toggle between each selected product form to be filled out
You can toggle between the sections of the the form to be filled out
You can remove a selected product form 
And to make your life easier, all relevant client details are already auto-filled in the forms you have selected!
The final step before sending your proposal out is to review it and then select the insurer to send this proposal to!
Pro tip: don't worry if you missed out on selecting an insurer. You can still do so after a proposal is sent (find out how you can do so in this video guide on how to manage a sent proposal).
You may also choose to refer this proposal to another agent. This is not compulsory and you can decide to do so at a later stage as well (check out this video tutorial on managing a proposal that has been sent).
Here's a video tutorial of what was described above!
Insurer getting back to you with a quote for your proposal
Wondering how your insurer will receive your proposal and to get back with a quotation?
The following video with give you a view of how the automated email sent from your email address will look like to your underwriter.
You will see that your underwriter
will receive an automated email to provide context of your proposal
will then be prompted to click into a secured link where they can view details of your proposal
will be able to provide the quotation via this secured link accordingly!
Other related Video Tutorial Guides:
---
There you have it! You just created and sent a proposal via Surer. The best part? ONE proposal form for MULTIPLE insurers!
Still unsure about how to go about using Surer? Fret not!
Request for a 1-1 training session here and one of our teammates will get in touch with you to schedule for such!
Are you an Insurance intermediary? Sign up for free now!
It is fuss-free. No credit card or payment required.
SIGN UP NOW
Subscribe to our Telegram channel to get the most insightful articles delivered to you automatically!
Join Telegram