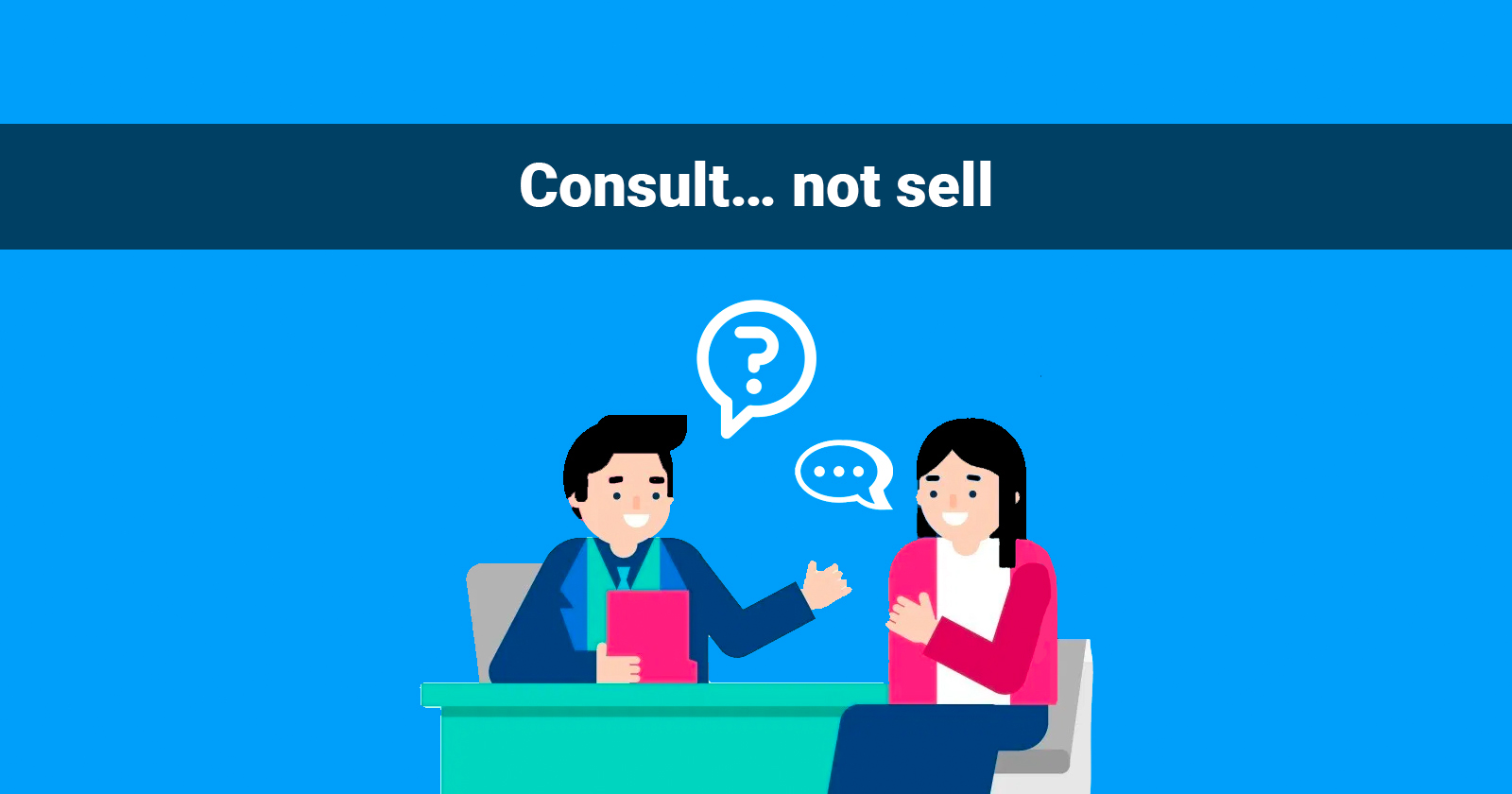 Like diet trends, there seem to be fads (no pun intended) with sales processes as well.
We see value in the different approaches and feel that different processes should be deployed for different product types / industry.
In our opinion, General Intermediaries would benefit the most from taking a consultative approach to their selling process.
Note that there are two different components here.
The process i.e. a framework and the method i.e. consultative.
The sales process is essentially a repeatable set of steps a salesperson takes to move a client along the different stages of the deal – it is like a winning formula that you keep following.
Within the sales process, there can be various approaches to take.
The consultative approach focuses on creating value and trust with a client and is a consistent relationship of exploration and solutioning. The first objective of such an approach is always to build a foundational understanding of the client's needs; then comes providing the solution or product or policy.
As a General Insurance intermediary, think back on all the deals you have closed. They definitely were not as simple as 'you want policy A or policy B? Choose one.'; rather more of a 'okay, you have this need, and you need this coverage, this is the best policy / policy mix for your needs'.
So, here is our take on key stages of a consultative sales process!
Qualification
Nope, not in terms of degree or certs.
Qualification in terms of either sounding your clients out on help they might need or identifying a problem you have the solution for. Essentially, qualifying that you can bring value to the client.
Yes. This is why we mentioned at the start of the article that it is important to build a foundational understanding of your client.
This does not have to be exclusively for a new client. 
You can imagine this to be the stage where you re-engage an existing client as well.
In the case of re-engaging an existing client it could stem from the intermediary introducing an idea that will help the client or raising a problem that the client might not have visibility of.
For example, the intermediary might reach out to a client in the restaurant business and say 'I realise that you do not have coverage for work injury compensation. I think it is important that you insure yourself and your team against injuries that might occur in the kitchen'.
In this case the intermediary has identified a potential problem and suggests a solution.
Assessment
This is the stage where the intermediary helps the customer explore the possibility or assess the need for a solution.
This can be done in a myriad of ways, from sending them relevant articles or case studies (prompting self assessment on the client's part) to arranging for a meeting or call.
Here is where the intermediary can really be the advisor their clients need.
What are past experiences you have had with other clients in similar situations? 
Were there any learnings you can share? 
Does it make fiscal sense to purchase a policy based on the client's business?
If the qualification stage we spoke about above was to help you identify if you are relevant and can bring value, then in this assessment stage, you will be able to tell what kind of value you can bring.
Solutioning
In our day and age, you have to expect that your customers will do their own research as far as possible.
As an intermediary, it is thus very important to focus on proving your value – a value that your clients will not be able to derive on their own.
An example for General Insurance intermediaries would be your ability to get the best coverage possible for your client's insurance needs – this does not mean just pricing, but also requirements of the policy.
This is where Surer can help, with our streamlined and automated quote sourcing and presentation system that allows you to gather as many options for your client as possible, study them, and then present the ones most suited for them.
In doing so, you have provided an additional tangible value to your clients – not only have you become a single source for your clients to explore their options, you have also used your knowledge and expertise to  help distill these options down to the ones that work.
In this example, the intermediary has clearly outlined how they are providing a unique value / solution.
Be part of the process
Depending on the policy you are selling, at times, the client you have worked and built a relationship with might not be the sole decision maker.
For personal lines, this client might want to consult or be influenced by their spouse or family.
For business or retail lines, this client might need to get the greenlight from business partners or superiors.
Regardless, do not leave the client in the lurch!
Be part of the process to help this client explain or convince the other stakeholders like how you did to convince him.
Ask the client how you can help on this front.
In doing so, you have inadvertently also shifted to the position of an ally!
Follow through
The most important part of a consultative sales process is actually the stage AFTER the deal is done.
One of the reasons to take the consultative sales process route is for client retention. 
As an intermediary would have showcased his value on the advisory front in all the stages prior to this, this value should continue to follow through!
The last thing you want to deal with is buyer's remorse or worse, not attend to a client who has buyer's remorse.
There can be a myriad of reasons for this to happen, from unclear next steps to the client being affected by other, maybe inaccurate opinions. 
Fundamentally, you want to show that you care for your client and the fastest way to not do this, is disappearing once the deal is done. SO DON'T!
—
We believe that General Insurance intermediaries should spend the most part of their time consulting, advising and caring for the client and the least, on process management, thus… Surer!
Surer enables the intermediary to do more by working less, save time sourcing for quotes, and ultimately, be able to do more deals!
Leave the rudimentary task to us and focus on what you do best – advising your clients!
Are you an Insurance intermediary? Sign up for free now!
It is fuss-free. No credit card or payment required.
SIGN UP NOW
Subscribe to our Telegram channel to get the most insightful articles delivered to you automatically!
Join Telegram