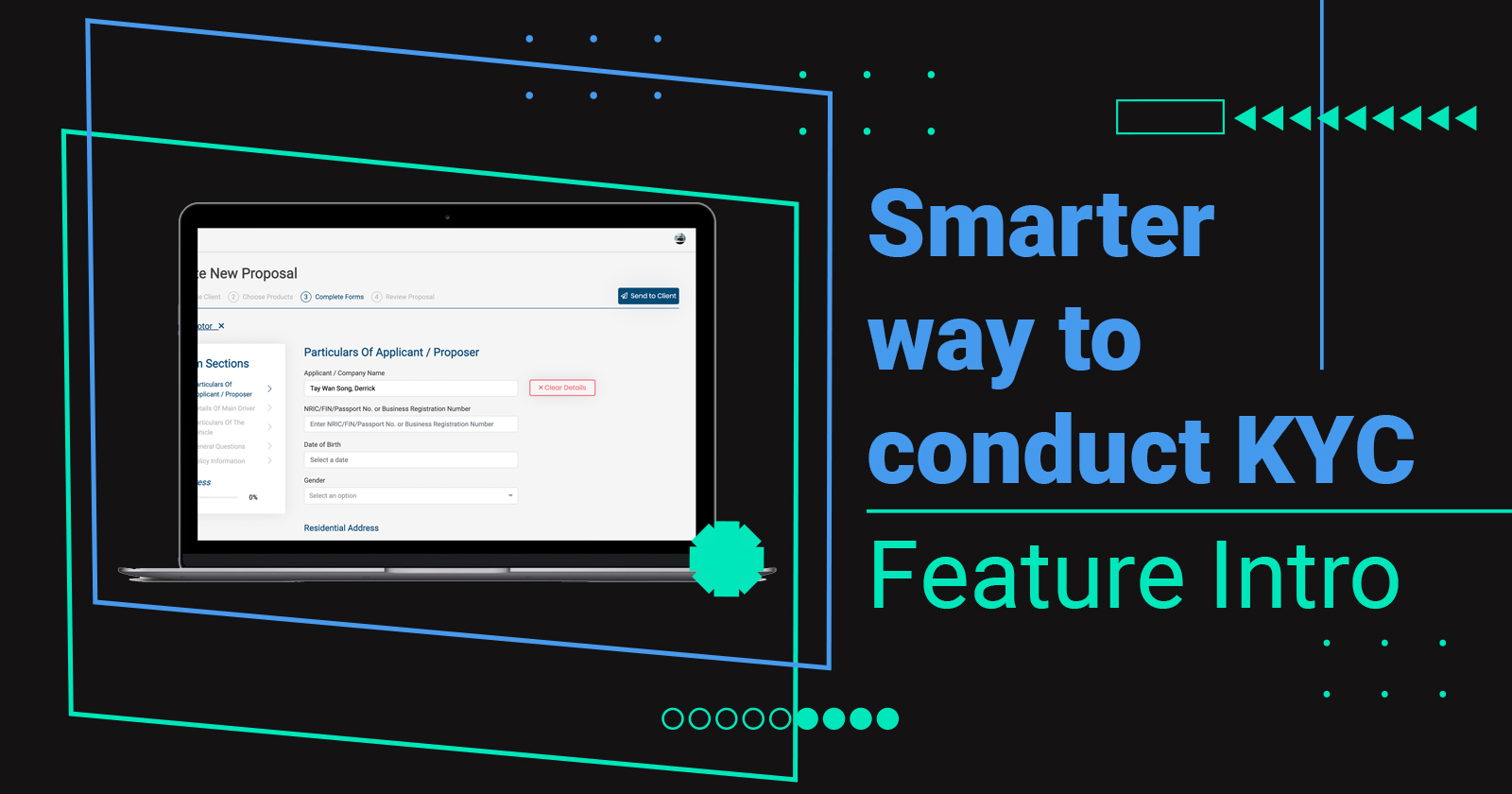 As with other 'feature intro' articles, we picked this feature to share more about because this was one of the biggest pain points we understand required solving. 
"KYC process can be very tedious at times – multiple back and forth with the client can be frustrating for both parties." – a problem one of the intermediaries we had interviewed shared.
Sharing a proposal form with a client to co-create with you
We totally understand this pain point.
The KYC process for General Insurance products can differ greatly from product to product. Information required about a Professional Indemnity product is hugely different from that of a Motor / Car insurance product. 
Surer's proposal co-creation feature allows you to co-create a proposal with your client digitally! 
Essentially, you can share any of the 50 insurance product forms we have on Surer with the client. Simply select the client you want to share the form with, select the form and click on 'Share with client' in the top right (see video demo at the bottom of this article) and an email is automatically triggered to the client to prompt them on this!
If you are worried that the client may be inundated with many of the form fields on a form – don't worry! 
Your client is not required to fill up the entire proposal form – just any part of which he has first hand info or knowledge of.
For example, for a Private Motor insurance, instead of going back and forth with the client requesting for vehicle details, your client can fill it out directly on their own.
Once your client has filled out the information to the best of his knowledge, you will be prompted by your digital personal assistant. 
Your next action is to simply check through the information your client had filled out, complete the rest of the proposal and off you go to getting quotes!
Over 50 insurance product forms to choose from
Here's a list of product forms you can choose from:
Association Liability
Bailees Liability
Banker's Guarantee / Bond
Burglary / Full Theft
Business Interruption / Consequential Loss
Combined General Liability
Commercial Motor (Fleet)
Commercial Vehicle
Contractor / Construction All Risk
Cyber Liability
Dental
Directors & Officers Liability
Electronic Equipment
Erection All Risk
Errors & Omissions
Events Liability
Fidelity Guarantee
Financial Institutions Professional Indemnity
Foreign Worker Medical
Golfer's
Group Hospitalisation and Surgery
Group Personal Accident
Individual Hospital & Surgery
Inland Transit
International Private Medical Insurance
Machinery Breakdown
Maid
Marine Cargo
Marine Hull
Medical Malpractice
Miscellaneous Property
Money
Motor Trade (Trade Plate/Road Risks)
Motorcycle
Outpatient
Personal Accident
Pet
Plate Glass
Pleasure Craft
POLO Bond
Private Motor
Product Liability
Professional Indemnity
Property
Public Liability
Student Travel
Travel
Work Injury Compensation
Markel's Accountant's Professional Indemnity Scheme
FWD's Surer Maid Insurance
FWD's Surer Maid Insurance (COVID-19)
FWD's Surer Maid Insurance (POLO)
Chubb's PAL Protect™ (Chubb Personal Accident & Lifestyle Protect)
Chubb's Simply Home® Enhanced
As a pro tip, you are not limited to just selecting one product form to be shared with your client. As with many proposals, it could be a combination of products – this can be done as well!
Video demo of how the proposal co-creation feature works for a more seamless KYC process
Here's a short video demo of how this feature works!
Like what you see? 
SIGN UP FOR FREE NOW and start using a smarter way to conduct your KYC!
Are you an Insurance intermediary? Sign up for free now!
It is fuss-free. No credit card or payment required.
SIGN UP NOW
Subscribe to our Telegram channel to get the most insightful articles delivered to you automatically!
Join Telegram